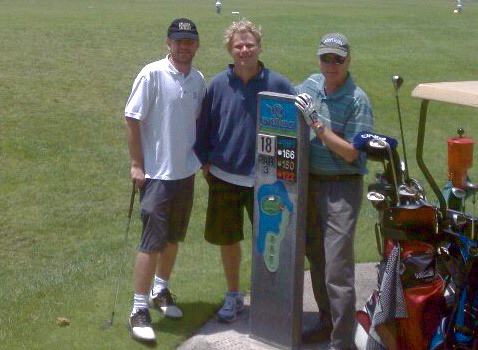 Every year since I was 13 years old, my Dad has taken me on a Father-Son Golf Trip.  When my brother turned 13, he joined us on our annual adventure and over the years we have played courses in Temecula, San Diego, Palm Springs, Mexico, Buellton, among many others.  This year we played golf at River Ridge Golf Course in Oxnard.
We woke up at 9 AM, and made our way towards Oxnard, stopping at a Farmers Boys for breakfast along the way.  We played a very competitive round of golf.  I shot an 89, my Dad shot a 90 and Rocky shot a 97.  My Dad had a lot of great shots and I was pretty consistent throughout the day, except for my putting.  I had two 4 putts which is not very good, but in my defense, those greens were tough to read.
We made it back to our hotel and got ready for a night on the town.  We headed to a place called Victoria Pub & Grill.  A very fancy establishment.  We played some NTN trivia which you may have seen at a few places, and then played several games of pool.  My Dad ran the table on us in one game which I have never seen done before in a game of cut-throat.  He was on his A game.
We made it back to the Hotel and headed for the jacquizzi, which was very pleasant and we were able to catch up on each other's goings ons in life.  Then back to our room where we played two games of Gin 13, Rocky took both games.
For the day, I was the best golfer, Dad was the pool shark and Rocky could not be beat in cards.  We called it a night and turned into bed . . . ready for Day #2 of our Father-Son Golf Trip.