My original plan was to see how far I could bike without stopping.  Ultimately, I need to be able to complete 112 miles on a bike in around 8 hours if I want to be able to complete the Ironman, so I wanted to establish how far I could last without having any training at all. 
My brother and I worked really hard on fixing up the bicycle as you can read in a previous post, http://runningbrothers.com/363/my-new-bicycle/, but the thing was old and covered in rust.  I was a little scared knowing that this bicycle was not in tip-top shape.  The gears didn't work, so I told my brother to set it at the highest gear and I would just work from there. 
We were dropped off by one of our heroes, our Mom, at the entrance to the Santa Ana River Trail.  The ride began simply enough, my brother and I, side by side just like The Lone Ranger and Tonto, only we were riding bicycles (and don't ask which one was Tonto). 
Six miles into our adventure, I faced a short uphill climb . . . so I powered my legs to build up some steam to make it to the top of the hill.  Just before the top, I heard a loud "SNAP," the tension in the pedals gave way and my knee skyrocketed up into the handlebars bringing me to an instant stop.  I yelled at my brother to stop, but he pedaled on, not noticing my misfortune. 
Several bike riders behind me stopped to ask if I was ok, I'm assuming because serious injury can come from breaking a bike chain.  I retrieved the bike chain and eventually my brother returned to see if I was ok.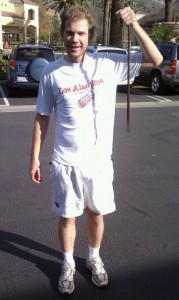 At the beginning of the bike ride I planned on trying my best to complete 112 miles and just before we had traveled 6 miles, my rusted bike chain broke and our ride came to an end . . .
. . . or so I thought.
Stay Tuned for Part #3 of Zeb and Rocky's Big Adventure!