The bike was fixed and we continued on our bikes toward the beach.  The Santa Ana River Trail is a perfect place to go for a bike ride.  The trail goes through Anaheim and down to Newport Beach.  You rarely have to cross any streets as you make it through the trail and for the most part the trail is flat.
Throughout the trail, there are people with all sorts of bicycling contraptions.  We saw an elliptical machine that actually was able to travel along the bike path, something that I had not seen before.  There were those bikes that have people sitting down with the pedals in front of them and your typical bicycles.  Although, I think throughout the journey, mine took the cake for being the oldest.  We even saw one guy on a motorized scooter type thing, after we passed my brother turned to me and said, "Cheater."
The trail took us right past the Honda Center and Angel Stadium.  My brother just purchased season tickets to the Angels so, we anticipate making quite a few bike rides to Angel Stadium by way of the Santa Ana River Trail in the near future.
Along the trail they have mile markers until you reach the beach and although we were tired, the time seemed to fly by.  Slowly, little signs appeared that let us knew we were close to the Pacific Ocean.  First, the smell, the beach has a unique smell and you can sense it's nearness because of that smell, so we knew we were close.  Then in the "river" basin you could see beach sand that had traveled up the river somehow.  And, lastly, you could see it.  The sight of the beach and the sense of accomplishment that accompanied it was great.  We actually rode a bike, from where we lived to the beach.  Not many people can say that.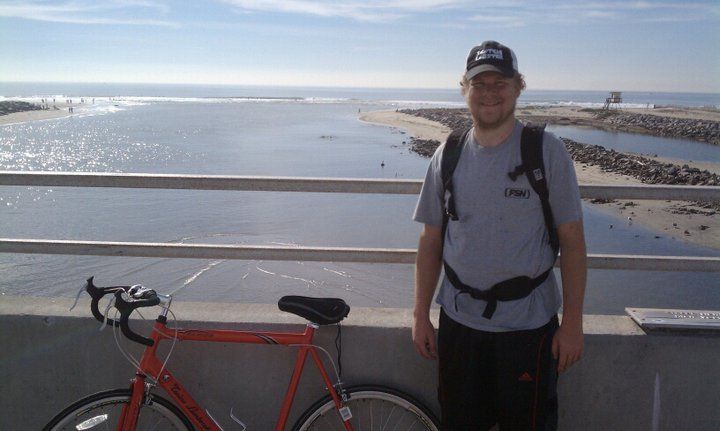 We decided to celebrate by stopping inside Newport Burgers to have a hearty lunch.  When we got off of our bicycles, one thing was apparent.  Our asses were sore!  Newport Burgers was a good place to eat, you could tell it was a family owned place decorated with a lot of photo's from around the 1950's.  After our meal, we needed to ride back to Anaheim to be picked up by another one of our heroes . . . our father. 
With a sore rear-end and after having rode on a bicycle for 26 miles, and running for another 4 miles, was it possible that we could make it back to Anaheim?  Only our butts would have that answer . . .
Stay Tuned for Part #5 of Zeb and Rocky's Big Adventure