This past weekend my brother said he wanted to start the middle leg of his IronMan training, the Bike. When I think about the IronMan the swim scares me cause I swim like an anchor but the bike is what I would fear the most, for no reason than my rear can not handle 112 miles. But none the less we need to get Zeb turning those pedals as part of his training.
A few years ago, when I was a struggling college student I really wanted to start cycling but couldn't afford a decent bike and on my way to work I saw a garage sale which had a road bike siting out. I immediatly pulled over and asked about it. It had flat tires, no seat, no brakes, a rusty chain, rusty sprokets, rusty handle bars, rusty….. rusty…… you get the picture. AND SHE ONLY WANTED $2. SCORE!!!
Back then I started my project to restore the bike to brand new condition. $80 later and several hours of taking it appart and scrubbing away rust I had a very nice bike. It was a little small for 6 foot guy but it did the job.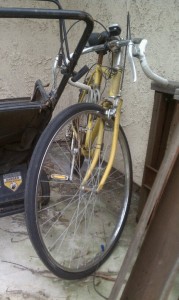 Now, several years later the bike has been sitting for a long time and bike has regrown its rust and lost all the air in its tires but its time to get it back. It's behind a none working lawn mower and covered in spider webs but my brother and I can still see its speed. We wheel it out, clean it up and start checking how it works. We try to turn the pedals and it doesn't turn but that won't detour us. So we align up the chain and lube everything up. EUREKA!!! its turning.  we put air in the tires and Zeb gives it a ride
It still needs some work but it gets my brother started on the middle leg of his Ironman. Good Luck Bro.