Like Zeb said we had to get up super early to get there in time for the 6:00 start. I like to get to these things early so I can hit the restrooms before the crowds and try to relax a bit. So I was up at 3:30 packing a small bag of pre-race supplies (waters, fig newtons, sun screen, bandaids and mole skin). I mole skinned my feet in all the places I usually get blisters and it paid off. After packing my bag and joing our personal driver (Jaclyn) it was off to pick up our athletic trainer (Danielle). They were the best support crew.
Driving to the race was a fun experience. We were anquious and excited, I think this is when Zeb realized I had a pretty good cold working, I was determined to at least start the race with him and then when he was out of sight I would slow down and see how long I could last.
We got to the start line and meet some really cool people. We headed to the restroom facilities which were crowed andthen to the start line  trying to find people that looked like runners and stand next to them for the start.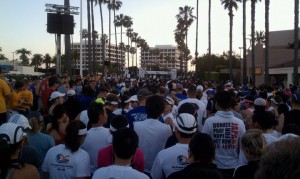 This was our first race with a waved start and it was a little different. The really good runners started at 6:00 on the dot and crowd started to do the bunch up thing and push toward the start line. Several minutes later they announced it was about our time. Zeb and I high fived and wished each other luck. I was a nice feeling that we were doing this together. I knew Zeb was gonna do great I just hoped I wouldn't have to call our support crew for a ride somewhere on the course.