By now you have read a lot about the Orange County Marathon from my brothers. I thought I would describe some of my experiences that were slightly different than my brothers. We registered for the race several months ago but it really didn't feel like we were going to run a marathon until about a 2 weeks before the race.
Our training really fell off in the month leading to the marathon (we called it peaking). So with two weeks to go I felt everything really had to go perfectly for us to have a chance of finishing.  With 12 days to go I decided I should try to get miles on my new Sacony's to make sure my feet fit them. A lot of people say getting new shoes before a big race is a mistake but I really felt like it helped us out. My old running shoes felt flat and unresponsive and I really felt a difference in the new shoes.
The weekend before the race I started a yard irrigation project (digging trenches, installing irrigation pipe and that kind of stuff). I finished the project but the next day i could bearly move my back, I pulled something in my shoulder. My body can usually recover from anything in about 3 to 4 days so I wasn't too worried that it would affect the marathon but it did disturb my sleep.
So about 3 days later my back started to feel better just like I knew it would but I had another problem. I started to feel my throat getting sore and my nose started to run. I caught some sort of cold and I only had 3 days to tell the marathon. We already made our mind up that we were gonna do this marathon and we paid the entry fee. Backing out did cross my mind because I was feeling pretty crappy because I didn't want ruin the day for my brother. We were in this together and I was gonna atleast start the race with him.
I was still feeling pretty bad the Friday and Zeb was on a little get-away and we needed to pick up our race packets. Other than crossing the finish line I think those pre-race exhibits are the funniest part of the whole race experience, everyone is excited, friendly and helpful, you also get all kinds of cool freebies.
I picked up race numbers which had our team name (runningbros)… pretty sweet!!! After picking up the race packets and mooseing arround the exhibit hall I decided I was near Newport Harbor and I might put my resently obtained sailing certification to the test. I drove down to Newport Beach Boat Rentals where they had a nice 14`Capri sailboat. Sailing in Newport Harbor was a little complicated because it was pretty narrow but checking out those water front houses was pretty cool. It was nice and relaxing, although I still had that pesky cold thing.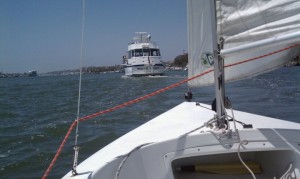 I also got to see one of the coolest boats ever…. the Vigrin Oceanic Catamaran.  I have heard about Richard Branson doing some pretty cool things like the Space X prise for private space flights but the Virgin Oceanic mission also seems pretty cool. If you space/exporation junky check out the link to read Virgin Oceanic mission to explore the deepest parts of our oceans.