The Running Brothers are returning to their roots. We started our running in one of our favorate Cities, San Luis Obispo. You can read our previous running advantures in SLO, all the way back in December.
That was our first real training day and I think we have come alot. Now we are going back for our second triathalon. The 32nd Annnual SLO Triathalon will be on July 24, 2011 and the running brothers will be there ready to run, bike and swim.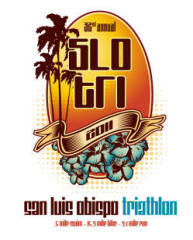 You may have read that our family has a pretty close connection to San Luis Obispo. Our mother grew up in SLO, our father attended the California Scholastic Press Association Workshop and subseqently lead for work show for nearly 30 years. Our parents meet at that workshop at the California Polytechnic University, San Luis Obispo. My brother, Sister and I all attended the workshop. Our family made regular trips to SLO to see our family. So needless to say SLO has a special place in our hearts.
If you want to join us let us know, if you want to make the drive or are a local and want to cheer us on that would be fantastic.
WISH US LUCK!!!