After finding out that is was unlikely that my new bicycle would work, I was bummed.  Corey Diaz, one of my former students at Don Lugo High School in Chino was working on my bike at Free-Wheeling, the local bike shop, where I had dropped off my bike the day before.  At around 2 PM, I received a call from Corey. 
"Hey, Zeb"
"Yes."
"You know that problem that I told you about the bike not being able to shift gears and how I didn't think I would be able to fix it?"
"Yes."
"I fixed it."
Horay!!!!  I thought.  I now had a brand new bicycle that was going to work, and not only that, but it was going to work well.  I was stoked.  Corey then told me that he was going to tune-up my bike and that it would be ready to go within a couple of days.  I pateintly waited and picked up my newer bicycle when he called a couple of days later.  And boy, did it ride smooth. 
Thanks to Chris Carlson and Corey Diaz, I now had a newer bicycle with everything I could ask for.  I'm a lucky guy.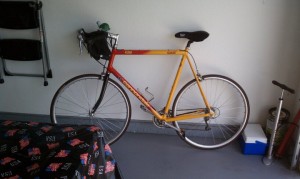 Here is our previous article, Newer Bicycle Part #1 – http://runningbrothers.com/578/my-newer-bicycle/