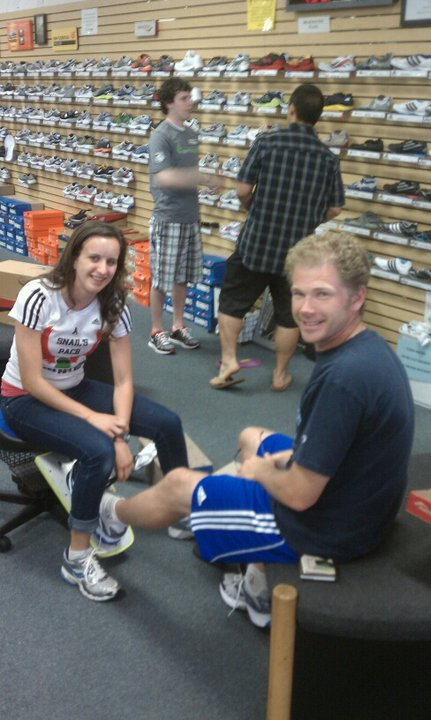 My brother and I went to A Snail's Pace in Brea, California to get fitted for new running shoes yesterday.  If you have been keeping up with our posts, you will know that I have been experiencing some pain in my left knee when running.  My Uncle Steve, a former marathon runner wrote a blog post about ways that would help to alleviate knee pain and he said that the most important thing to eliminate knee pain was to get properly fitted shoes.
We arrived at A Snail's Pace and were approached promptly by Katie Lowrie, a worker at the store who took us to a foot calibration machine.  Basically, you stood on this machine and it provided information about where you apply pressure in your feet.  She told my I had high arches and applied too much pressure on my right foot and basically said the same thing to my brother.  She then brought out the shoes she thought would fit best.  We tried them on and ran up and down the store.  She was trying to determine if we overpronated or underpronated . . . and as it turns out, we both had normal pronation. 
We got Katie laughing pretty good with all of our ridiculous questions and one-liners.  My brother thought that she was just doing that to be nice, but who knows.  After fitting our shoes my brother and I settled on the exact same shoes – The Saucony Progrid Ride 3's.  However, mine were slightly larger at a size 15 and my brother got the 14's.  (We all know what that means). 
We made sure to make Katie promise to watch our movie along with other member's of the staff and got out of A Snail's Pace having spent about $100 a piece.  Who knows if the shoe will help out my knee pain on those long runs, but it's worth finding out.  And now, my brother and I have matching shoes, matching shirts and matching track suits . . . yeah, we know we're cool.