Steve Ference, you posted two comments, one about swimming during lunch so that we can eat whatever we want and how quitting the drinking of alcohol was a good thing.  In order to return the favor, we have made the decision to make you one of our heroes.  The honor is immense, but you are worthy.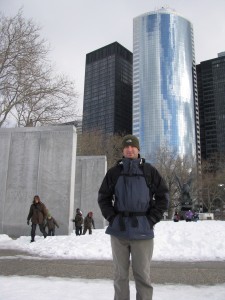 Viva Movement began as a blog about Steve wanting to become more adventurous.  One new such adventure was a sprint triathalon.  As Steve puts it, "It was one of the most rewarding things I've done."  After that, he was hooked and now VivaMovement has transformed into the chronicling of his journey to become an Ironman.
Steve has a very practical approach to attaining this goal.  He is trying to accomplish little steps along the way to reach his ultimate goal.  His next step is to run a marathon.
When I emailed Steve, asking him for an interview, he indicated to me that he was moving to South Korea.  Originally from Indiana, PA, he and his wife, decided to up and move to the other side of the planet, to teach English to South Koreans.  They figured that with no children and no commitments, that this would be there only time to do something like this and is now finding himself getting situated in an entirely new country.
The most rewarding things that Steve has accomplished so far is swimming a mile in a pool.  Which, also happens to be my favorite article that he has written, 
http://vivamovement.blogspot.com/2010/12/one-mile-swim.html
, very inspiring.   It really gave him some perspective on how much more training that he was going to have to do to prepare.  He likes the solitude of running by himself, but also enjoys the company of others on a run. 
Steve recommends setting small, attainable goals.  Having a huge goal is great, but you need to feel some sense of accomplishment along the way.  He also suggests telling as many people as you can about your goals, so that they, and yourself will hold you more accountable.
One thing Steve recommends that everyone should do at least once in their lifetime is travel to a different country.  He has been in South Korea for just a short period of time and already has called it one of the most life-changing experiences he has ever had as it has changed his worldview and personal views.